keleos
This is one of my favorite slow cooker recipes and I told Dawny that I'd post it, so here it is.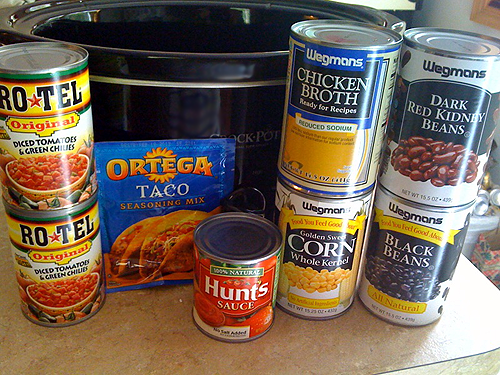 With pictures!
That's basically your ingredients list right there, with the addition of an onion and some chicken. See:
1 onion, chopped
1 (15 ounce) can chili beans
1 (15 ounce) can black beans
1 (15 ounce) can whole kernel corn
1 (8 ounce) can tomato sauce
1 (14.5 ounce) can of chicken stock
2 (10 ounce) cans diced tomatoes with green chilies (like, say, Rotel)
1 (1.25 ounce) package taco seasoning
3-4 skinless, boneless chicken breasts (depending on how large the breasts are and how meaty you want your soup)
Now I have a 7 quart crock pot, but I've made it in a 6 quart with some room to spare. So you might be able to put it in a 5.5. Basically, put everything but the chicken into the crock pot and stir it up. Don't bother draining anything, just dump it in. Then you're going to put in the chicken.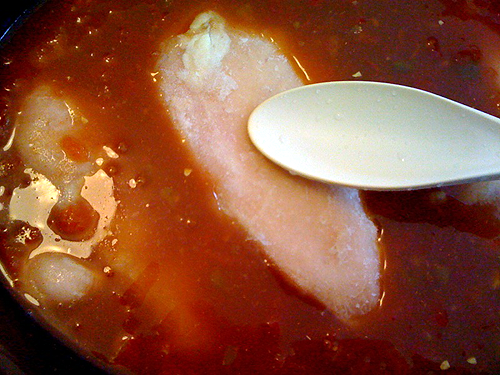 You can use either fresh or frozen. I use frozen because I'm lazy, and I as you can see, I don't bother defrosting, I just stick 'em in. Put them in whole. You're going to want to push them just under the surface so they're covered by the liquid. Turn the crock pot on the high setting and cook away for 5 hours. After five hours, check your chicken, it should be done, and then you're ready for the next step.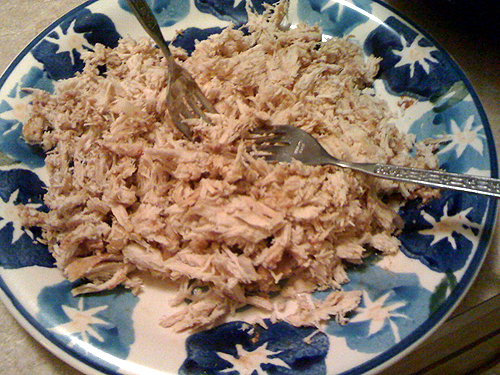 Remove the chicken from the crock pot to a plate or shallow bowl. Let it cool for about ten minutes, and then you can shred it. You can fork shred it or use your fingers, whichever is easier. Return the chicken to the soup, stir it in, and turn the heat down to low for another hour.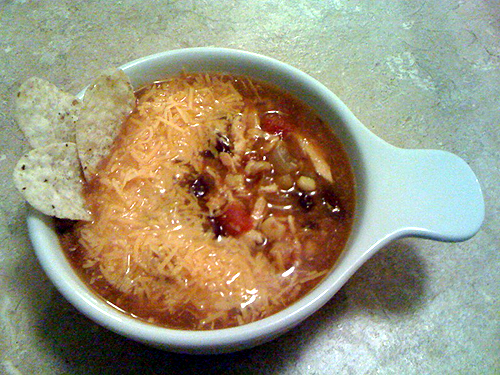 When your soup is done, you can garnish it with cheese, sour cream, or tortilla chips. For a little extra kick, you can add a bit of lemon or lime juice. You could also add a little fresh cilantro. If it works with tacos, it'll work with this soup. And it's yummy, yummy, yummy.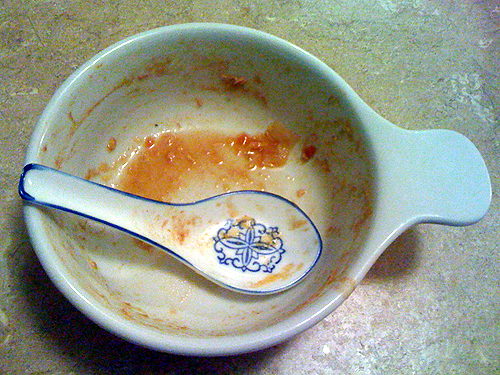 And then it'll be gone!